31. 03. 2011
TV SERIES "MIRROR OF POWER" EPISODES IN APRIL 2011
April is the last month of the TV series "Mirror of Power" broadcasting. In cooperation with production company A-media, ANEM is preparing the remaining three episodes of this series dealing with the problem of corruption in Serbia.
In the first April episode, namely the eighteenth episode of the series, you could learn why citizens of Secanj still do not have the sewage system in this small Serbian town, despite the fact that the contract for the sewage installation was signed back in 2006 and around 70 million dinars have already been invested in this project. Where is the problem and why the work that could have been finished in a 150 days has been prolonged to over 5 years? Charges for criminal offense have been filed against the investor and contractors, so the court would decide who was responsible. Nevertheless, in the end, the citizens of Secanj are the ones suffering the most.
The information on the contents of the 2 remaining April episodes will also be available here, in line with the dynamics of their broadcasting.
The nineteenth episode of the series, recorded in Lazarevac, examines why the Ombudsman has issued a recommendation to Belgrade municipality Lazarevac and surroundings for conducting more transparent work and better protecting citizens' interests in the procedure of expropriation for the purpose of expanding of "Kolubara" mining basin. Some citizens have objected to non-transparent criteria for compensation of all supporting facilities. In addition to competent legal services of "Kolubara" and municipality of Lazarevac, the Ombudsman Sasa Jankovic also speaks for the series.
In the final episode of the TV series "Mirror of Power", the experts for anti-corruption, Cedomir Cupic, Verica Barac, Sasa Jankovic, Rodoljub Sabic and Nemanja Nenadic, elaborate on the possible improvements in fighting this burdening problem, presented and tackled through nineteen episodes of the series, which affects citizens' lives. Besides education, more stringent sanctions and greater transparency, the experts are suggesting learning from positive examples of other countries.
slike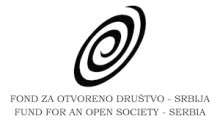 This TV series is realized with the financial support of the National Endowment for Democracy (NED) and the Fund for an Open Society, Serbia (FOSS).