27. 04. 2011
WATCH THE LAST THREE EPISODES OF THE TV SERIES "MIRROR OF POWER" ON ANEM WEB SITE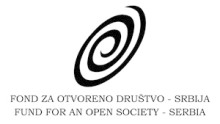 This TV series is realized with the financial support of the National Endowment for Democracy (NED) and the Fund for an Open Society, Serbia (FOSS).
Broadcasting of the 20th episode marked the end the ANEM TV series "Mirror of power" produced in cooperation with production company A-Media. 
You have had the opportunity to watch selected 12 episodes of this series on ANEM website, and now you can see the last 3 episodes broadcast during April 2011.
In the first of these three episode, namely the eighteenth episode of the series, you could learn why citizens of Secanj still do not have the sewage system in this small Serbian town, despite the fact that the contract for the sewage installation was signed back in 2006 and around 70 million dinars have already been invested in this project. In this episode you can see where the problem is and why the work that could have been finished in 150 days has been prolonged to over 5 years? In the nineteenth episode you can see why the Ombudsman has issued a recommendation to Belgrade municipality Lazarevac for conducting more transparent work and better protecting citizens' interests in the procedure of expropriation for the purpose of expanding of "Kolubara" mining basin. The final, twentieth episode, summarizes up the impressions about the whole series and in this episode the experts for anti-corruption elaborate on the possible improvements in fighting this burdening problem. Besides education, more stringent sanctions and greater transparency, the experts are suggesting learning from positive practice of other countries.
In the media set you can see the last three episodes of the series. We remind you on their brief description in the attachment below: