05. 04. 2011
NEW EPISODES OF THE TV SERIES "MIRROR OF POWER" AVAILABLE ON ANEM WEBSITE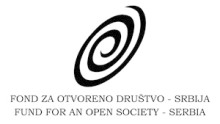 This TV series is realized with the financial support of the National Endowment for Democracy (NED) and the Fund for an Open Society, Serbia (FOSS).
New set of selected episodes of "Mirror of Power" available here, on ANEM website, were aired on ANEM stations throughout Serbia during February and March 2011. Once again, we have made a selection of 6 the most interesting episodes for you.
The first of newly selected set that can be watched online on ANEM website is the ninth episode of the series, recorded in Novi Sad, about this town's urban (un)planning. You can find out what urban planning "solutions" have been used in Novi Sad and why more than 200 detailed regulation plans have been adopted for the past 10 years. The next is the tenth episode, about the public figures not being too eager to make available information on the manner in which the public money is spent, which is exactly the reason why the Belgrade municipality Rakovica was obliged to pay 2 fines amounting to 200.000 dinars. The eleventh episode of the series is recorded in Nis and treats the problems in managing city's Symphonic Orchestra. As the public has show great interest in this episode, we recommend you see it again here on ANEM website, where you can also see the fourteenth episode of the series, recorded in Majdanpek, that deals with the question why the citizens in this Serbian town are still paying 2 percent of taxes for social security, health insurance charges and other remuneration-related costs, despite the necessity to collect the required amount of money through this tax had ceased back in 2008. Links to the remaining two episodes, fifteenth and seventeenth, are available at the end of this text; the fifteenth is recorded in Leskovac and it examines why and how has municipality donated the building of local Army Hall to a 25 years of free-of-charge use to the London-based college "City of London", although the municipality has bought this building out of the Serbian Army by compensating 22 apartments and 2 construction lots worth 1.2 million Euros. In the seventeenth episode, recorded in Belgrade, you will find out to what extent has the work of public authorities been transparent, namely, whether all 17 Belgrade municipalities have met their legal obligation to publish the Informatory on operations on their websites, as they have been required to do as of January 2011 by the Law on Free Access to Information of Public Importance.
We invite you to see all these episodes on links below and find out why they have been selected as the most interesting.