25. 12. 2014
ANEM CONDUCTED FREE TRAINIGS FOR MEDIA IN WRITING PROJECT PROPOSALS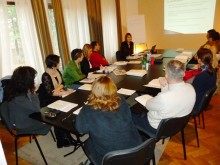 In cooperation with Deutsche Welle (DW), Association of Independent Electronic Media (ANEM) organized in December 2014 two 2-day trainings on writing project proposals for calls for co-financing media projects.
Trainings are the part of cooperation of ANEM, Association of Media and Local Press, with DW, on the implementation of the project Competence Centre for Development of Private Local Media in Serbia" that is supported by German Federal Ministry for Economic Cooperation and Development.
These free trainings were held on 5-6th December and 11-12th December 2014 in Belgrade, for the member media of ANEM, Media Association and Local Press. There were 31 participants in trainings, representatives of the media (radio, TV, print and web portals) from 23 different cities across Serbia, out of which 23 participants were from ANEM stations.
The trainer was Jasmina Debeljak, an expert with years of experience in international and donor projects and trainings for project writing and project management. The concept of the trainings was a combination of theoretical approach with examples from practice, and hands-on work in groups, where participants had the opportunity to apply their newly acquired knowledge.
The aim of the trainings was raising capacities of the media outlets, members of ANEM, as well as the Association of Media and Local Press, for writing project proposals to be submitted to calls for co-financing of projects for the fulfilment of public interest in the area of public information that will be carried out at all levels of government (local, republic and of the autonomous province). ANEM recognized the need to raise the capacities for the said fundraising of its own member stations and the members of partners' associations as the new Law on Public Information and Media stipulated the project co-financing as the only form of the state aid to media (except in special cases) and as the Law and the related Rulebook introduced numerous new rules in this area. By improving these capacities, the media have more chances to ensure a part of needed funds for their functioning through project co-financing. By these trainings, ANEM strived to help them to be more successful in such fundraising.