31. 01. 2011
TV SERIES "MIRROR OF POWER" EPISODES IN FEBRUARY 2011
For February 2011, ANEM has prepared, in cooperation with A-media Production Company, 4 new episodes of the TV series "Mirror of Power" about the problem of potential corruption in local communities.
The ninth episode of the TV series "Mirror of Power" deals with the issue of Novi Sad town (un)planning. Images of city areas show that not much attention is paid to the look or the arrangement of certain neighborhoods. However, what the Department of City Development has to say about that? That there is urban disorder brought into practice confirms the fact that during the last few years, the so-called detailed regulatory plans have been constantly changing, while for the past 10 years, over 200 of them have been adopted. Whether such changes are necessary due to modifications in the field and why the plans have been changed so often is the question we asked Tatjana Gasevic from the Department of City Development. The answers to this question were sought also at the Museum of Contemporary Art Novi Sad and at the NGO Transparency Serbia.
The tenth episode of the TV series "Mirror of Power" tackles the issue of public officials not being ready to make available information to citizens on how is the public money spent. When the Center for Non-Profit Sector Development requested the information on donations to non-government organizations from 167 cities and municipalities in Serbia, the Commissioner for Information of Public Importance had to arbitrate in one third of cases. The Belgrade municipality Rakovica was even obliged to pay 2 fines amounting 200.000 RSD for failing to provide citizens with requested information, as an obligation imposed by the Law on Free Access to Information of Public Importance.
The eleventh episode, recorded in Nis, tackles the arbitrariness of the Nis Symphonic Orchestra Management, while the twelfth episode deals with the conduct of public companies in Serbia and investigates if their work is being monitored, through example of the Public Company "Press, Radio and Film" in Bor.
The information on the contents of the remaining February episodes will be attached at the end of this text, in line with the dynamics of their broadcasting.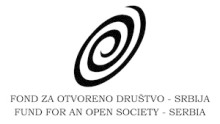 This TV series is realized with the financial support of the National Endowment for Democracy (NED) and the Fund for an Open Society, Serbia (FOSS).
Announcement for the eleventh episode
Announcement for the twelfth episode