24. 12. 2010
TV Series "Mirror of power" Episodes in January 2011
For January 2011, we have prepared 4 new episodes of this series about the problem of corruption in local communities.
The fifth episode is exploring whether the public authorities are working strictly within their competence and to what extent are the citizens familiar with those powers? The new episode of the TV series "Mirror of power" follows the case of Head of the Department of Property and Legal Affairs in the Department of City Planning in Cacak, who has accused the Secretary of the Assembly of exerting pressure on him and interfering in his business. "There is a big difference if I have been called up by a superintendent or Cacak Assembly's secretary", he said. The Secretary of the City Assembly has requested dismissal of this officer.
The sixth episode of the series investigates how is the money from the budget in Nis spent on "reviving" of the city's airport. We were interested in what our interlocutors had to say about the subsidy of two airliners and investment of around 2 million Euros, mostly spent on booking of certain number of seats on every flight. Why were the flights from Nis to Forli discontinued after only 10 months? Nemanja Nenadic from the NGO "Transparency Serbia" says that the best way of clearing any doubt is the transparency in work.
The seventh episode of the series, recorded in Vranje, dealt with the business operations of the City Farmacy. The eighth episode brings the story about the unauthorized use of funds by the kindergarten "Milica Nozica" in Valjevo.
The announcements of remaining January episodes will be attached at the end of this text, in line with the dynamics of their broadcasting.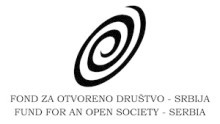 This TV series is realized with the financial support of the National Endowment for Democracy (NED) and the Fund for an Open Society, Serbia (FOSS).
Announcement for the seventh episode of the TV series "Mirror of Power"
Announcement for the eighth episode of the TV series "Mirror of Power"